When I was getting ready to put out my second album, I asked Pete Seeger if he would give me a quote to use for my press-kit. I had worked for a few years for Clearwater, an environmental organization Pete founded that is dedicated to caring for the Hudson River through education, advocacy, and celebration. Pete's quote said some nice things about me as a singer and then ended with the words, "Sing on, Minna, bind this world together!" In the wake of Pete's death last week, I have been thinking about how he was a true teacher for me, a teacher of truth. His "blurb" embodied this: I had asked for help with self-promotion and instead he gave me a charge!
It's a charge I take seriously: trying to use singing and songwriting to bring greater wholeness to this world. But last night I learned something new about how song binds my own life together.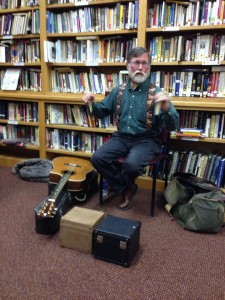 Through a series of odd events (including a power outage in Lancaster), I ended up in the library of my synagogue, Kesher Zion, listening to renowned chantyman Geoff Kaufman singing songs of the sea, songs of the earth, and songs of the soul. "Concertina" and "Conservative Synagogue" are not words one often finds reason to put in the same sentence, but there was Geoff, playing not only the concertina, but also a set of bones just like those the sailors of old made from the ribs of the salt beef they ate.
Geoff sings and teaches all over, but his homeport is the Mystic Seaport. As he sings, Geoff also teaches the history of where the songs were collected and what kind of work they were written to accompany. I know him best from the days when I worked for Clearwater, though I first sailed into Mystic Seaport as a 17-year-old student-sailor aboard the schooner Spirit of Massachusetts.
The sea songs I fell in love in my sailing days with have continued to infuse my own work, whether in the context of traditional Jewish worship — where I've been known to use chanties as settings for Psalms and liturgical poems — or as the basis for new songs written in songwriting workshops. But I never would have imagined that a genuine sea-song expert would show up in my synagogue one icy night and it was a joy to hear him and learn from him.
After he finished singing — it was an impromptu concert with lots of participation from the handful of us that made up the audience — I was brimming to tell Geoff about the "Song of Complaints." I've written the "Song of Complaints" with all kinds of different groups of folks by now, in synagogues and churches and psychiatric units. It's based on the sea chanty "Leave Her Johnny, Leave Her" and I wanted to hear what Geoff would think of the use I had made of this traditional sea song. When I told him about how we had changed the chorus to "help me, won't you help me," he said, "Oh, well, here's another 'help me' song that might be useful to you in your work," and he began singing, "Won't me help me to raise'em boys, Oh, honey." It's a net-hauling song from the Chesapeake Bay, and when Geoff finished singing it we talked about how sea chanties allowed common sailors, relatively powerless workers in the shipboard chain of command, to lift their concerns and hopes into communal song. Geoff also pointed out that the songs were also sung while doing tedious labor and were themselves meant to help see the sailors through this back-straining drudgery. These songs also literally bound the sailors to one another, helping them work together on jobs where the rhythm of their labor mattered.
These "help me" songs brought their own kind of help just from the singing itself.
I was reminded of the time I asked one young woman in a "Song of Complaints" workshop about what it was like to hear her complaint sung aloud by everyone.  "When we sing it," she said, "it feels like it's already been answered."
In writing the "Song of Complaints" in different communities, I take a song that I had learned as a sailor and bring it into the world of teaching Torah. And here I was getting to reflect on that experience with a singer and collector of sea songs.  My own Torah of song was being enriched from Geoff's stores of historical knowledge and deep wisdom.
I began to feel how our whole lives are strung sitar-like with myriad distinct strings that all resonate when any one of them is plucked. Song can help us connect with all the different places, and people, and roles we have ever known. The many jobs and relationships and identities we have inhabited or tried to inhabit or tried to escape: they are all with us and song can help us weave them into some whole. Once I figured out that I wasn't going to be a professional sailor, I thought I was leaving that life behind, but then someone shows up with a concertina and reminds me that nothing and no one is ever wholly lost.
In our weekly cycle of Torah readings, we are in the middle of a large section of the Book of Exodus in which Moses is instructed about how to build the mishkan (tabernacle) and how to make the garments that the priests wore while engaged in service. Every time I read of the golden threads that were used for these sacred spaces and vestments, I hear Pete's song, "O had I a golden thread and a needle so fine…."
All of our many journeys are woven into the garment that is our life. May our songs be the golden threads that bind our lives together.
(Deep gratitude to Jodi Lamhut and Bob Yahn for hosting Geoff Kaufman and making this whole evening possible!)