There is a kind of humbling that can be thoroughly delicious, no?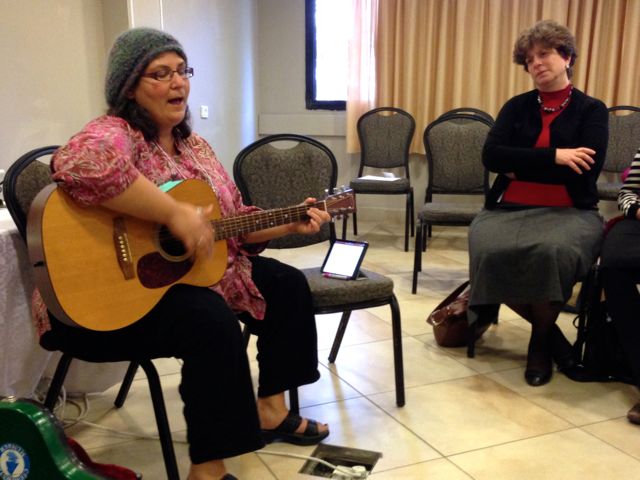 It's a feeling not just of our own smallness but of total wonder. I experienced just that yumminess last week as I led a group of doctors, social workers, rabbis and others engaged in "spiritual accompaniment" (livu'i ruchani as it is called here in Israel) in writing a song together. I was running a songwriting workshop at the 10th Annual Israel Spiritual Care Conference and I was simply blown away by the outpouring of experiences, words, ideas, and feelings that came forth as we talked about how we use (and aspire to use) song and songwriting as we care for those facing illness and loss. Yes, I was humbled by the language itself: turning English words into song is my specialty; working with Hebrew was a new and raw experience (more on that here). But I was even more humbled (and delighted) by the wealth of stories and nuanced views that the participants brought to our songwriting.
We used my song "Hashmi'ini" as our starting point. "Let me hear your voice, for your voice is sweet," implores the Song of Songs. A crucial part of the work of accompanying others who are in pain or facing loss and uncertainty, is simply encouraging them to let themselves be heard, using our own voices to try to give voice to their questions, concerns, and hopes. And so I asked the participants in last week's workshop to reflect on what might arise — for themselves and for those they were caring for — when they did this work of saying "Hashmi'ini" ("Let me hear you").
Here's what emerged:
Audio clip: Adobe Flash Player (version 9 or above) is required to play this audio clip. Download the latest version here. You also need to have JavaScript enabled in your browser.
And here's my translation of their verses:
Let me hear your emptiness for I am here beside you.
Let me hear your essence for you are still you.
Let me hear how you've been wounded for you are yearning for the wholeness that is yours.
Let me hear the meaning of your life and I will sing of all that you bear.
Let me hear your voice that knows what must be done even though you lack the strength to do it.
Let me hear of the justice for which I have worked because I was engaged in healing the world.
You can listen to the original song too (as recorded on "at the edge of the unknown"):
Audio clip: Adobe Flash Player (version 9 or above) is required to play this audio clip. Download the latest version here. You also need to have JavaScript enabled in your browser.
I feel truly inspired by the flowering of the spiritual care field here in Israel and look forward to many more opportunities for bringing my own voice in support of it.