I am so excited to introduce a new resource for folks who use their voices to bring others into prayer and song. Based on questions I've been asked by my students over the years, Lift Your Voice Like a Shofar: strengthen your voice and make prayer-leading spiritual again is designed to help people use their most authentic voices in sustainable and nourishing ways. And, it's free! Grab your copy here.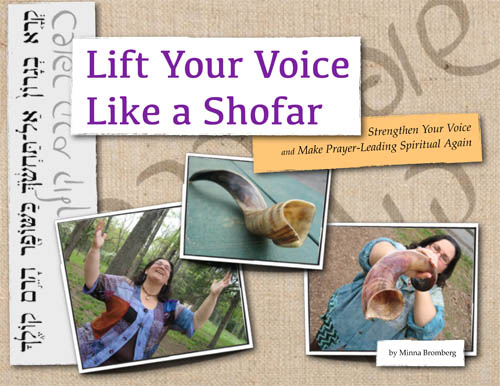 Here's an excerpt from the beginning of the book to help you discern whether it might be right for you (or someone you love):
It is the morning of Yom Kippur. Already our throats are a little dry and we are unsure of just how we are going to make it through the rest of the day. And then, right there in the haftarah, comes God's demand of Isaiah: "Cry out full-throated, don't hold back; lift your voice like a shofar."

When you hear those words, do they fill you with a sense of despair and inadequacy at the prospect of living up to them in your exhausted state? Or do you feel ready, despite your thirst, despite any nervousness, to use your voice to truly move people, to truly help your community pray? Do you know, in these moments, how to find your own voice again and again? Do you know how, as Leonard Cohen sings, to "ring the bell that still can ring?"

If….
…. your voice gets tired when you lead prayer
…. you worry about how to be loud enough without losing your voice
…. you aren't sure that you really "can" sing
…. you are wondering how you and your voice are going to make it through the next High Holy Days (or even just through this very week)
…. you sometimes wonder, from the bima, "When is it my turn to really pray?"
…. you want a way to strengthen and nourish your voice so that it will carry you through Ne'ilah and beyond…

…then I wrote this book for you.
While strengthening our voices can certainly happen at any time of year, the Days of Awe present a particular challenge, demanding a level of confidence and stamina that we are not always sure we are up to. Lift Your Voice Like a Shofar, just like working with me one-on-one, is designed especially for rabbis, rabbinical students, and anyone else who uses their voice to bring others into prayer and song. If you want to feel more confident about how to use your voice authentically, may this ebook be of help to you!
Download your free copy of Lift Your Voice Like a Shofar. Your voice will thank you.
Please do share this with anyone to whom it might be beneficial. And feel free to leave a comment below or contact me with any questions.